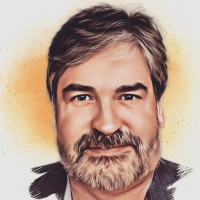 Kevin A. Kuhn
Science Fiction, Horror
Profession

University Teacher
Kevin Kuhn lives in Eden Prairie, Minnesota, with his wife Melinda and their three children. He is a technology executive who enjoys sipping cheap bourbon, avoiding yard work, and living vicariously through his children's sports. While Kevin has no musical skill whatsoever, he appreciates a broad spectrum of artists from Pink Floyd to Prince and Radiohead to the Rolling Stones. His golf game is horrific with flashes of mediocrity. Kevin is a full member of the Science Fiction & Fantasy Writers of America.
Seek out the things on the edge, the things in balance. There's a reason why we see beauty in the sunrise and the sunset, in the change of the seasons, and where the land meets the sea.
Kevin A. Kuhn
Every time you see a rainbow, every time you watch the sunset, and every time you remember a dream - they're all little glimpses into what's beyond our world.
Kevin A. Kuhn
Fear should be an advisor whose counsel is weighed carefully, not a leader whose commands are followed blindly.
Kevin A. Kuhn
It's not intuitive, but too much order is as destructive to life as chaos. Too much order doesn't allow for adaptation. It doesn't allow life to grow, to change, and to succeed.
Kevin A. Kuhn